Choose The #1 IICRC Certified Mold Removal Specialist in Ronkonkoma, Long Island, and Suffolk County, NY
Mold poses a serious threat to you and your family's health. Mold is a common problem that is not always noticed. This means that you could be breathing in mold spores without even knowing it. Make sure that you are always on the lookout around your home for signs of mold. Attempting to mitigate a mold colony yourself can result in you spreading the mold. You should call a professional mold mitigation expert if substantial amounts of mold are found. Keep reading this article to find out more about how what you should do if you find mold, and how you can stay safe when dealing with mold.
How Do You Know Your Property in Long Island Has Mold?
There are many signs that you may have a mold issue within your home. If you have noticed a spot of persistent moisture, or if you have a section of drywall that seems weak. Any obvious water leaks or areas that water may gather. An excess of humidity in your home can lead to the growth of mold. If you have a persistent mildew smell, a backed-up drain, or a basement wall that is allowing the infiltration of water.
You will need to call a professional mold remediation crew like Restoration Pro NY to come and inspect your home for signs of mold. If there are signs of mold, then we may need to conduct a more in-depth inspection. You may only see a small section of mold on your drywall, but the issue could be far worse than you know. You could have a mold infestation lurking behind the drywall. Which is why it is important to have a professional mold remediation company like us here at Restoration Pro NY, conduct an inspection to determine if you truly have a mold problem. If we find a problem, we will be able to explain to you how extensive the mold clean up will need to be, as well as what it will cost.

How Do We Remove Mold From Long Island Properties?
With mold being such a hazardous and easily spreadable thing, your mold remediation company will need to manage the situation with care.
First the mold remediation experts at Restoration Pros NY will seal off the affected area and we will get suited up for our own safety. Next, we will wet down the affected areas that are to be removed, this helps keep any spores from escaping. Then we will remove the mold infestation and place it in plastic bags, keeping the rest of your home free of any mold spores.
Once the mold is out of the home, we will use chemicals to kill any remaining spores and disinfect the potentially infected surfaces. Finally, it is time for repair. Restoration Pros NY as a mold repair service provider will repair your home to previous mold status. It may have been necessary to cut holes in walls to access the mold, but we will repair all the damage caused by us or the mold before the job is completed.
Why DIY Mold Removal Should Be Avoided
Trying to remove mold yourself could result in the mold spores being spread throughout your home, making the problem worse. You may think that you have solved the problem, but the spores may have traveled all through your home, leaving you with an infestation.
Trying To Make The Situation Better, Could Cost You Your Health
Mold can have negative side effects on your health. Breathing in mold spores has a proven list of dangerous issues it can cause. If for some reason you are dealing with mold make sure to wet the area down, wear a proper EPA approved mask, and wear rubber gloves.
You Are Not A Mold Expert, You Don't Know What To Look For
While cleaning you may think that you have cleaned up all the mold, a small colony of mold on the surface of some drywall now gone. However, the problem could be much worse, it could have covered your wall cavity behind the drywall, and you will be completely unaware. Leaving all the work you have done ineffective.
You Don't Have The Proper Mold Removal Equipment
Mold removal needs to be done with the proper equipment to completely remediate the issue while keeping you safe. A mold repair company like Restoration Pro NY will be outfitted with this equipment. We will be able to completely remove the mold from your home, safely and effectively.
Let Our Mold Remediation Professionals Give You Peace of Mind
Mold removal can be a daunting task. You may think that you will just clean a section of wall. But to do it properly and safely you will need to seal the room, you may need to get into the affected wall, which means cutting into the drywall, moving, and examining furniture, disinfecting everything that the spores could have touched. These are all things that the professionals are experienced with and prepared to do.
Call our mold experts
We Specialize In Black Mold Removal & Remediation in Ronkonkoma, Patchogue, Long Island, & Surrounding Cities in Suffolk County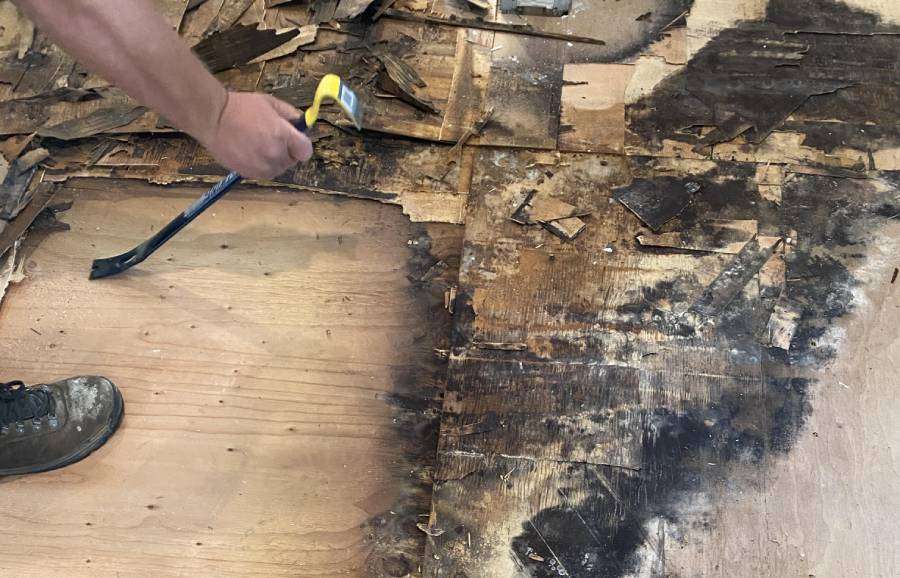 Black mold (stachybotrys chartarum) is the most well known and most feared type of mold. All types of molds are part of the fungi kingdom, but not all molds react with humans the same way. Some people are overly sensitive, or allergic, to mold. This means that they may develop common allergic reactions when they are around mold, coughing, runny/stuffy nose, sore throat, and more. However, most people are not allergic to mold, but it can still pose serious health risks if it is not taken care of.Black mold is commonly rumored to cause heart conditions in infants. This has not been scientifically proven, as there are no current studies that show any relation between the two. However, black mold is very unhealthy to have in your home and will need to be removed as quickly as possible, preferably by a mold removal expert.

Don't Wait! Schedule Your Mold Inspection Today
Pay attention to your home and watch for signs of mold. If you find yourself facing a mold issue, you need to call a mold remediation expert right away! You need to understand what kind of a risk you will be taking by not calling or attempting to clean the mold yourself.
Restoration Pros NY is the premier mold remediation company in Ronkonkoma and Long Island. We are experts at repairing mold damage. With our immediate response time we can assure you that you will be spoken with quickly and in a professional manner. We are fully licensed by IICRC, insured, and maintain five stars rating. We specialize in commercial and residential restoration issues. We accept all insurance companies. Call Restoration Pros NY and request a mold inspection today.
Get Mold Inspection